Custom panels designed to evoke the look of a pirate ship are topped by leeward sails and ramping that provide access from ground level to the top deck.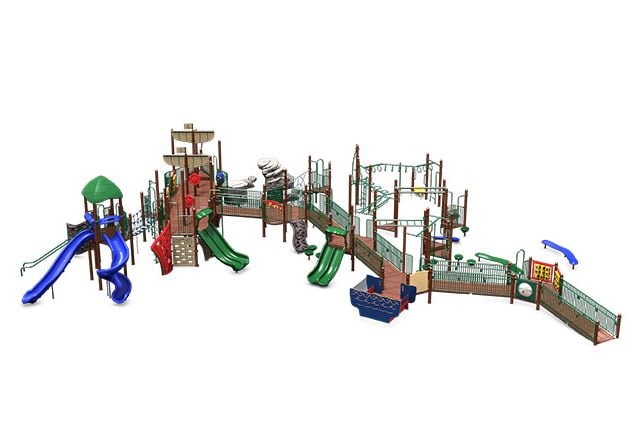 Color Palette :

Custom

Age :

5-12

Space Required :

78' 6" x 68' 5"

Capacity :

105-125

Critical Fall Height :

8' 0"

Play System :

SuperMax

Price :

$335,928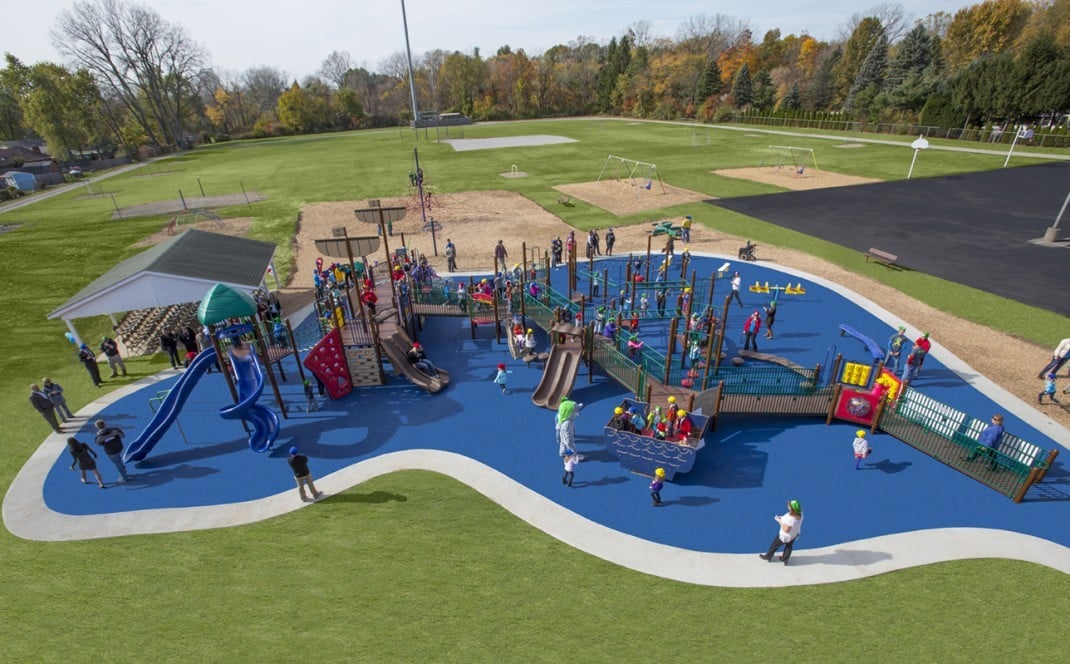 Color Palette :

Custom

Age :

5-12

Space Required :

135' 6" x 106' 8"

Capacity :

210-230

Critical Fall Height :

8' 0"

Price :

$306,784
"We have traveled a long way in search of a place where all kids can play together," said Carol Perz, Douglas Road Elementary School principal, as she opened the unveiling ceremony for the school's new CP Swagger Shipyard inclusive playground to the public.
Flanked by the entire student body that also donned complementary pirate attire, Ms. Perz addressed the school's students, teachers and parents, as well as local dignitaries, which included Lt. Governor Brian Calley. "Today we are here to say thanks to all who worked hard," she said.
The ceremony celebrated the conclusion of installing the pirate themed playground, which was inspired as part of the Gandee family's second annual Cerebral Palsy Swagger, a walk designed to raise awareness for cerebral palsy, which Braden Gandee, who is a student at Douglas Road Elementary, was born with.
Surrounded by poured in place, blue-tinted rubber surfacing designed to represent water, the new structure features gentle sloping ramps that can be easily accessed by mobility devices. Once children reach the main deck area, two separate ship's wheels allow for multiple navigators to man the helm of this whimsically designed vessel. Interactive panels provide additional opportunities for children to play games and socialize as they move their way up the structure. Several freestanding events are included in the space; the Jump-to-It, a challenging standing see saw, a large pyramid net, and Dual Oval Swings, allowing 3 children to swing together at once.