Our Science-Backed Approach to Play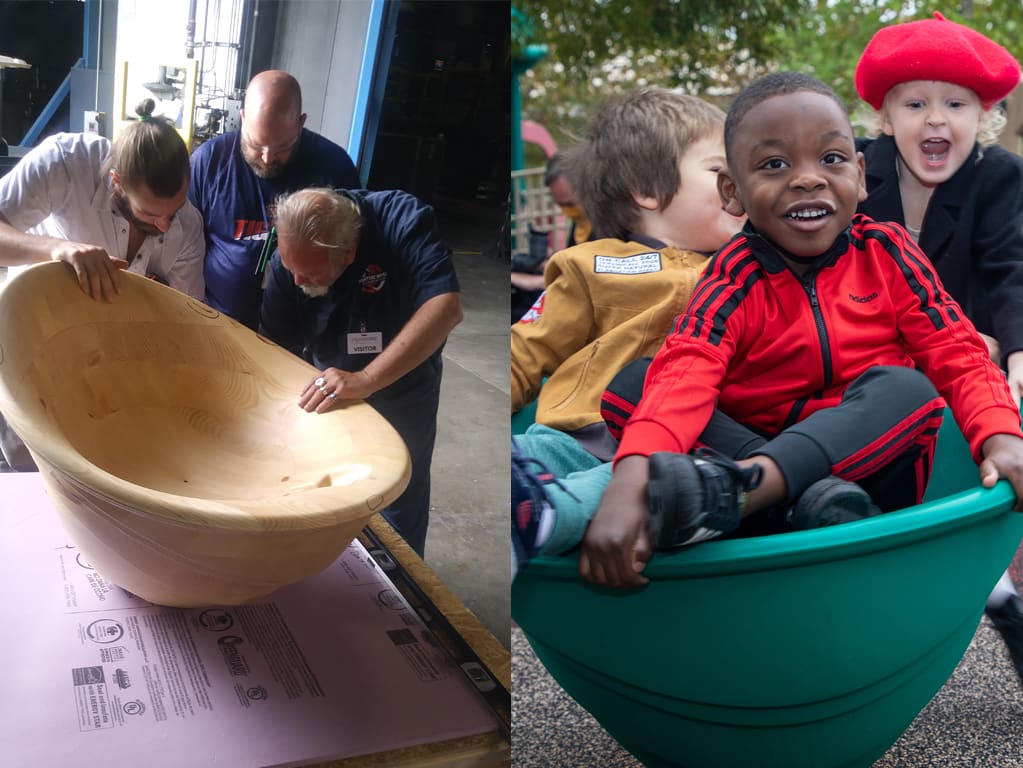 Developmentally-Supportive
Play Spaces for Every Child
The foundation of our boutique experience at Play & Park Structures is rooted in our purposeful playground design. Every single piece of playground equipment we engineer is based on proven ways children develop physical, social-emotional, sensory, cognitive, and communication skills through play. Through this "whole child" approach, we help children not only have fun, but also improve their physical health and psychological and emotional well-being.
It takes a tremendous amount of scientific research to design a playground that meets the need of the whole child — and the benefits are many. Discover all the ways our team applies science to your play space and the impact it has on your children's development.
More Than Just Physical Well-Being
We all know that playgrounds inspire children to disconnect from the screen and move. But purposeful play is about so much more than improving physical health. Inclusive playgrounds designed with the whole child in mind help children of all ages and abilities to develop social-emotional, sensory, cognitive, and communication skills as well!
Here are five ways inclusive play spaces encourage "whole child" development.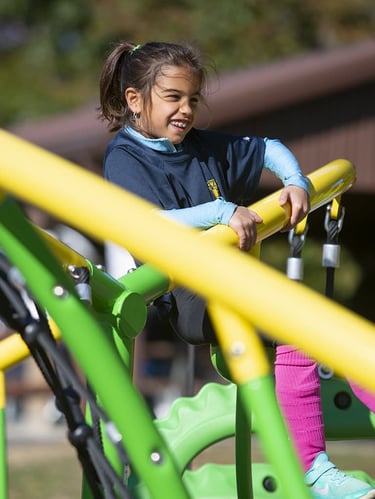 Understanding Whole Child Development
Physical
Did you know that just 20 minutes of moderate activity on a school playground a day gave the children in one study a 20% higher likelihood of getting an A in math or English? That's right — more active bodies can mean more active brains! But physical play means different things to different children, depending on their physical abilities.
Swinging or walking up a ramp can be physical play for one child, while another may benefit from overhead ladders or climbing the tallest rock structure. Designing playgrounds that have equipment engineered for different physical abilities is crucial for inclusive childhood development and confidence building.
Social-Emotional
Play & Park Structures uses data-driven research to promote these kinds of connections on the playground. For example, we know that research from Utah State University has shown that the higher children get on a playground structure, the more socially engaged children are with each other.

This includes children with and without disabilities! Incorporating tall towers and slides, for instance, could support all children's social-emotional development.
Sensory
Do you remember learning about the seven senses in school? They're sight, touch, smell, hearing, taste, vestibular, and proprioception. Often thought of as separate categories, research has shown that these senses are actually an integrated system that overlap.

Playgrounds that integrate the seven senses can positively influence the development of the whole child. Play & Park Structures playground equipment incorporates music, puzzles, spinning, rocking, and other elements offering sensory stimulation for children of all ages and abilities.
Cognitive
Cognitive development refers to children's perception, memory, imagination, conception, judgment, and reason. When designing playgrounds for the whole child, we often recommend equipment that encourages problem-solving, abstract thinking, and learning — such as the Selfie Swizzler, Tweenmates Swings, Auditory Sensors, A-Maze Funstations, perfectly-tuned music instruments, and more.
Communication
A large part of childhood socialization involves, well, communicating! We design play spaces to enhance children's language development and encourage meaningful communication experiences.

Whether its installing telephone tubes or creating cozy spaces where kids can bond with friends under the shade, no inclusive playground would be complete without incorporating this important developmental domain.
The 7 Principles of Inclusive
Playground Design
Play & Park Structures is a proud leader in inclusive playground design. With each and every play space we build, we consider the seven fundamental principles developed by our parent company Playcore, ensuring children of all ages and abilities are included.
Be Fair
Be Included
Be Smart
Be Independent
Be Safe
Be Active
Be Comfortable
Discover some best practices for incorporating the 7 Principles of Inclusive Playground Design into your play system by viewing our Inclusive Play Catalog.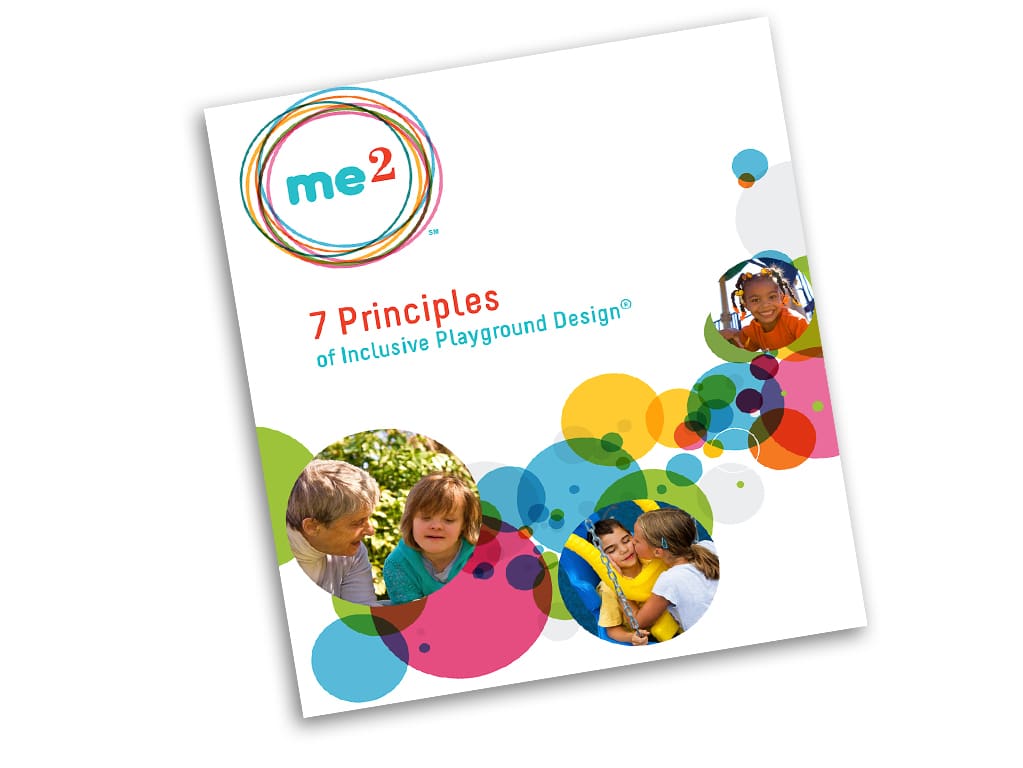 The 6 Elements of Play
When designing a well-rounded playground, Play & Park Structures always considers recommending equipment that facilitates the following activities to make sure all elements of play are included for maximum physical benefit to child development:
Brachiating (Hand Over Hand Activity)
Climbing
Swinging
Sliding
Spinning
Balancing
A blended combination of these activities helps to serve numerous childhood developmental purposes — such as improving muscle strength and endurance, enhancing coordination, and more.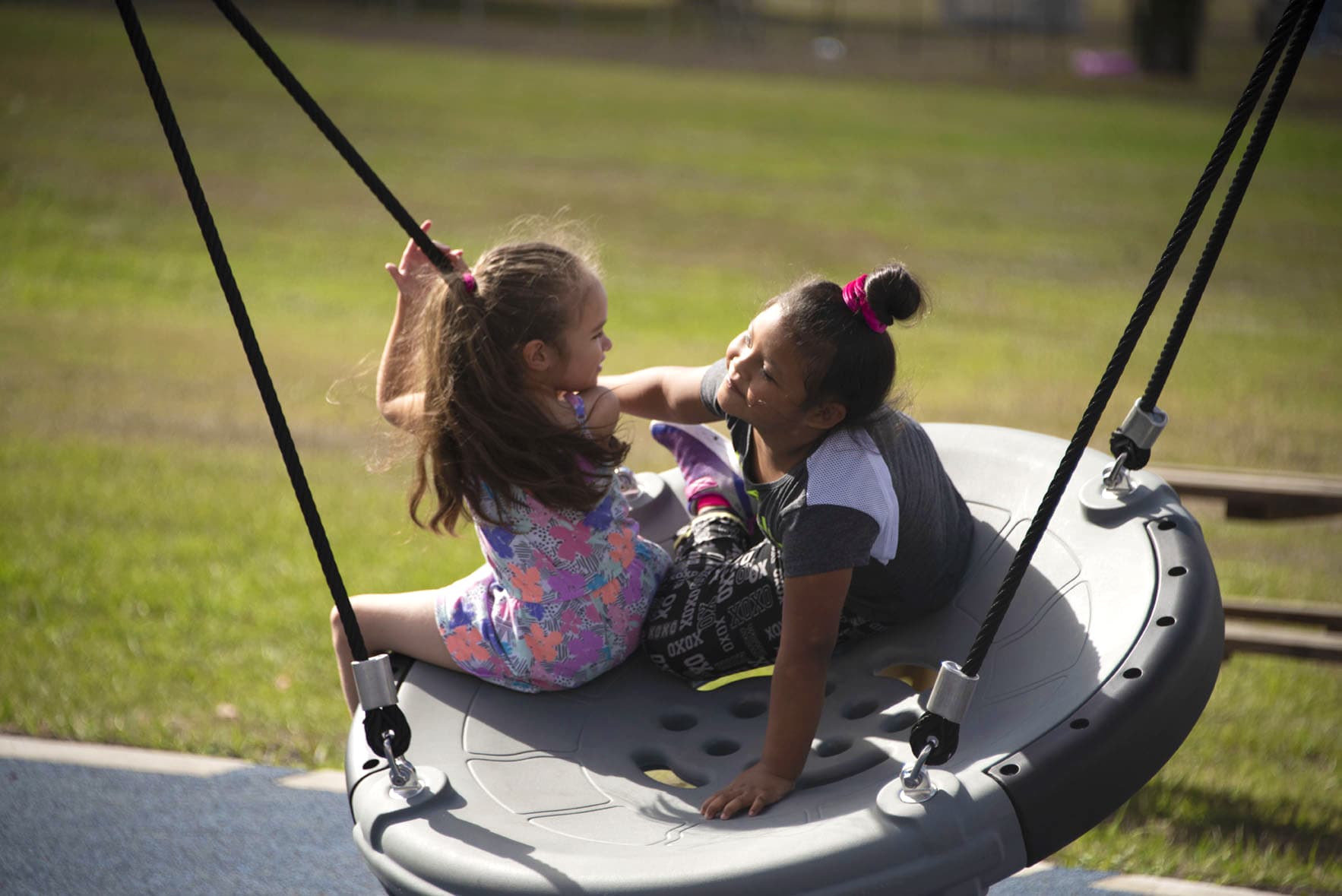 Let's Get Designing!
Our evidence-based approach to inclusive playground design sets Play & Park Structures apart from other play system design and installation companies. Request your own personalized Play Consultant to recommend science-based playground equipment, proven to promote whole child development, today.