Kids can replicate racing as they listen to the roar of the engines and other track sounds as they navigate the Tricky Triangle and even take a selfie with Tricky, the track mascot.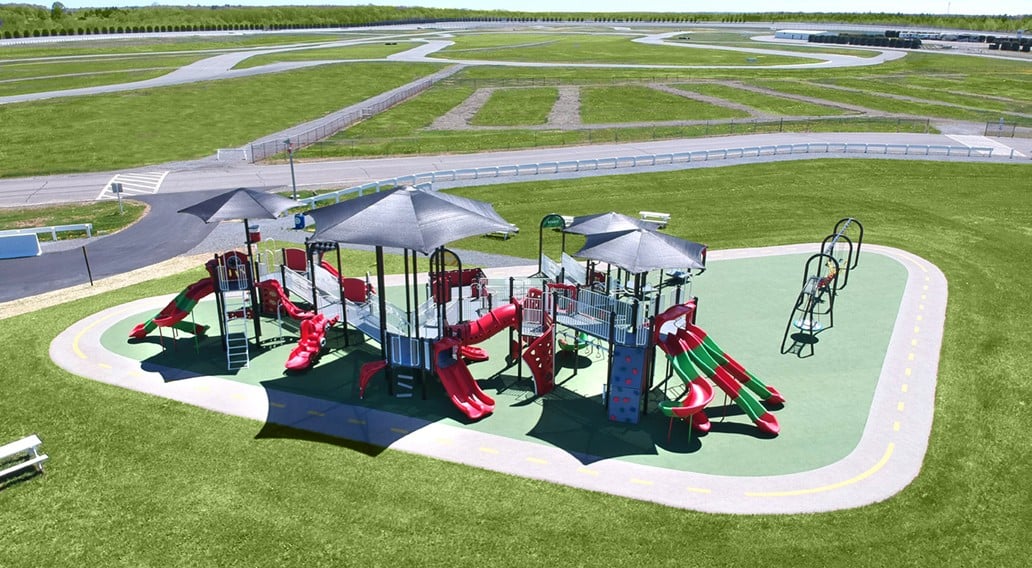 Color Palette :

Custom

Age :

5-12

Space Required :

137' 10" x 72' 9"

Capacity :

280-300

Critical Fall Height :

8' 0"

Price :

$321,006
"Our vision here at Pocono Raceway ... is to become the most beloved motorsports facility by exceeding expectations in guest services, entertainment and value while still embracing our uniqueness and character," Pocono CEO Nick Igdalsky said. "As you can see behind me, we have embarked on a project that serves all of this."
Igdalsky noted that one in five people in the United States suffer from sort of disorder that can lead to sensory overloads, emphasizing the importance of the track's initiative.
"We're thrilled not only to be able to accommodate people with sensory issues," Igdalsky said, "but we're even more proud to be the first of this kind at a racetrack in the world."
On hand for the unveiling of the new inclusive playground, designed by Play & Park Structures, were seven-time NASCAR Cup Series champion Jimmie Johnson and actor Christopher Jackson, who was nominated for a Tony Award for his role as George Washington in the Broadway-hit "Hamilton" and is currently on the CBS show, "Bull."
Johnson, a three-time winner at Pocono, was in attendance to promote the Cup Series' upcoming race at Pocono but immediately took to admire the raceway staff and its desire to give back.
"This track has always been so concerned about the community and the fans and the experience that they have," Johnson said. "To hear the stats today that one in five (people) would need levels of assistance that are now going to be provided here at the track blows my mind."