Playground Supervision Guide
The importance of a qualified and caring playground supervisor frequently goes unnoticed by everyone except children. You need to be a compassionate adult, often lending a friendly ear, as well as an administrator, enforcing the rules.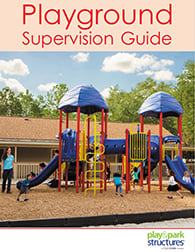 The primary job of a playground supervisor is to be concerned about the safety and welfare of the children that are in your care. How you choose to do your job may impact not only their safety but the value of their play. Through play, children grow and develop valuable skills that will carry them into the adult world. The work of a playground supervisor is to enhance play opportunities and encourage behaviors that create productive and safe play experiences. Supervisors should familiarize themselves with their school or agency's playground related policies, be trained in first aid, and participate in ongoing learning about best practices for playground supervision.
Play & Park Structures is pleased to offer this very important overview to raise awareness about some considerations for a routine playground supervision program. This guide is provided as a courtesy to all playground purchasers to help identify the importance of the value of play and playground supervision.