NatureGrounds Guidebook
NatureGrounds®: Putting Nature Into Play™ provides best practice guidelines for creating and retrofitting play environments that integrate manufactured play equipment and the living landscape. These naturalization strategies offer a new, alternative paradigm for the playground industry, responding directly to the need for children to be outdoors engaging with nature.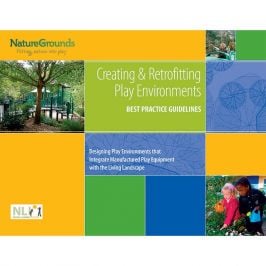 NatureGrounds Program
The NatureGrounds program is beneficial for:
Health:

Exposure to nature has proven to reduce symptoms of attention deficit disorder and feelings of stress.
Social:

Naturalization provides broader inclusion of people of all abilities and increases social interaction.
Learning / Cognitive: Natural elements provide hands on experiences and opportunities to bring classroom learning outdoors, while stimulating different forms of play.
Environmental Stewardship:

Increasing children's awareness of the environment at a young age helps them develop into environmentally-conscious adults.
Physical Activity: Naturalized play spaces motivate children to move more and engage in play for longer periods of time.
Your local Play & Park Structures Consultant can provide the NatureGrounds Guidebook where you will find:
Research:

Describing the benefits of bringing nature onto the playground.
Guidance:

On naturalization best practices for new and existing play spaces.
Tips: For selecting, preserving, and integrating live plant materials on your playground.
Online Searchable Plant Database
The unique plant selection database specifies the play value of child-friendly plants for your region and planting zone. Visit naturegrounds.org/plantsearch
Learn how to implement best practice principals and how your playground can become a model NatureGrounds Demonstration Site, bringing positive national recognition to your organization.
PlayCore has partnered with the Natural Learning Initiative, College of Design, NC State University, to offer an educational resource designed to help professional and community activists promote naturalized playgrounds.