Home
/
Blog
/ Valley View opens inclusive playground for students of all abilities | Play & Park Structures
This story was written by Christina Cox
661-287-5575
Valley View Community School is ensuring that all students, no matter their ability, have a chance to play and grow together at the school's new state-of-the-art, inclusive playground. Opened to students on Friday after two years of preparation, the accessible playground was designed to embrace equal opportunities for special needs children by making inclusive play a priority. "This playground has been universally designed to address the needs of the whole child particularly in areas of social, sensory, cognitive and communication," said Catherine Kawaguchi, superintendent of the Sulphur Springs Union School District (SSUSD). "Our district is ensuring that no child will be excluded with play and embraces equal play opportunities for all."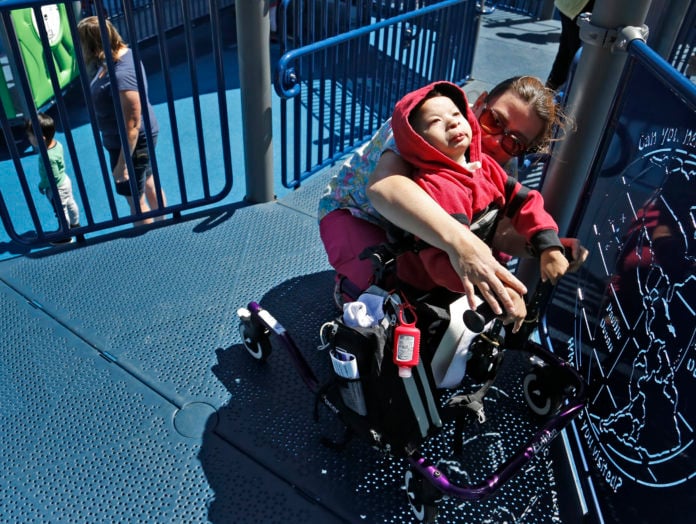 Designed and constructed with Sun Country Systems, the playground was nationally recognized for its implementation of the Seven Principles of Inclusive Playground design: be fair, be included, be smart, be independent, be safe, be active and be comfortable. "What the school district has done here is given the opportunity not to discriminate based on ability," said Tim Hollinger, president of Sun Country Systems. "It will be recommended at other places to build playgrounds like this. It is a leader in development and forward-thinking of how playgrounds should be built to include all abilities."
The blue and green, sea-themed playground includes wheelchair accessible ramps, a smooth moving boat, swings with harnesses, slides, musical notes that make noise, climbing walls and more. "We really thought about the sound, the touch, the feel," Kawaguchi said. "We have regular education with children with special needs integrated together."
According to SSUSD officials, Valley View serves students throughout the valley who are medically fragile and benefit from the school's specialized programs and on-site Medical Therapy Unit for the California Children's Services (CSC). Students from the Sulphur Springs District, Newhall School District, Saugus Union School District and Castaic Union School District attend Valley View to have access to these specialized programs. "We have all the children from all the other districts come here for school and services and academics and now they also get to be part of the school and not just watch," Kawaguchi said.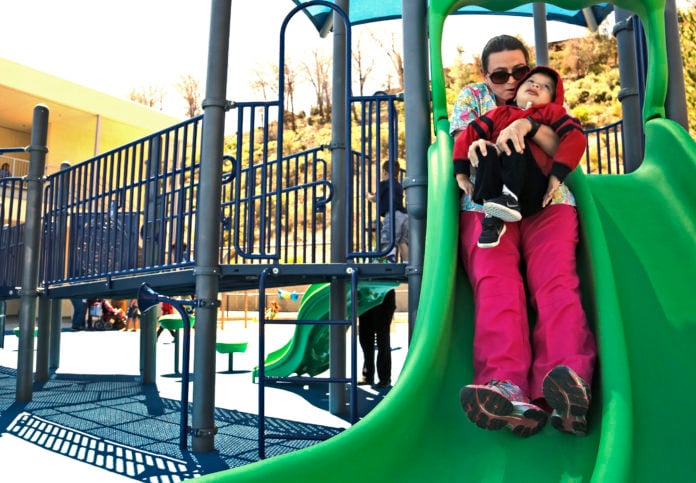 Ken Chase, clerk of the Sulphur Springs Union School District Governing Board, said the playground will allow all students to play together and will promote diversity on-campus for people with different abilities. "We have so many students with different abilities and we wanted to make sure we were able to accommodate everybody," he said. "For a lot of the students with disabilities this is probably a first for them, which is really neat."
Jay McZeal, a special education teacher at Valley View, said the playground offers sensory activities to his students that he can see incorporating into daily activities and his classroom curriculum. "It will give them the sensory experiences to go outside and go on the equipment which they couldn't before," he said. The inclusive playground also gives students the opportunity to receive occupational therapy outdoors with the playground's design to include elements of gripping and exercise.
According to Kawaguchi, the playground will act as a "gift" to all students and families in the family who are looking for an educational space that promotes inclusion and accessibility. "Really this is our gift to the valley," she said. "This is our gift to our children and our principal and our board of trustees really believes that no child should be excluded."
View full story here: STORY